Halloween is one of the most extreme party seasons of the year. How about we bring the spirit to our next rave or music festival? YESIRAVE! has created a DIY rave Halloween rave costumes guide, so you can rock your next rave in a spooky matter.
I am all ears!
Crazy easy to make and highly popular for Halloween: think of a specific animal or creature and put on their ears as DIY rave Halloween costumes. Combine with some face paint to make it even more spooooooooooky!
Here are the basic supplies you need:
Craft Felt Sheets
Headband
Craft Scissors
Hot Glue Gun
If you would like to be more elaborate, use:
Needle & Thread
Fabric
Lace
To incorporate the rave spirit, also include some glow-in-the-dark glitter, metallic, and neon paint. Whatever animal or creature you choose can be intensified with any of the previous colors so that your ears are spooky and techno.
Step 1
Fold the felt sheet in half and cut out two sets of the ear shape of your choice.
Step 2
Take each set of ears you cut in step 1 and wrap them around the headband with an appropriate amount of space in between.
The amount of space also depends on the creature or animal you have chosen. Once you have figured out the correct placement use the hot glue gun to glue the inside of the folded ear to the hairband itself, this will fixate the ear to the specific place on the headband! Then, glue the two sides of the folded set to each other.
Step 3
Now, you have an ears headband fully constructed. You only need to add the final touches to it. Depending on the materials you bought, sew additional fabrics to the ears and highlight its features with the rave paint you bought.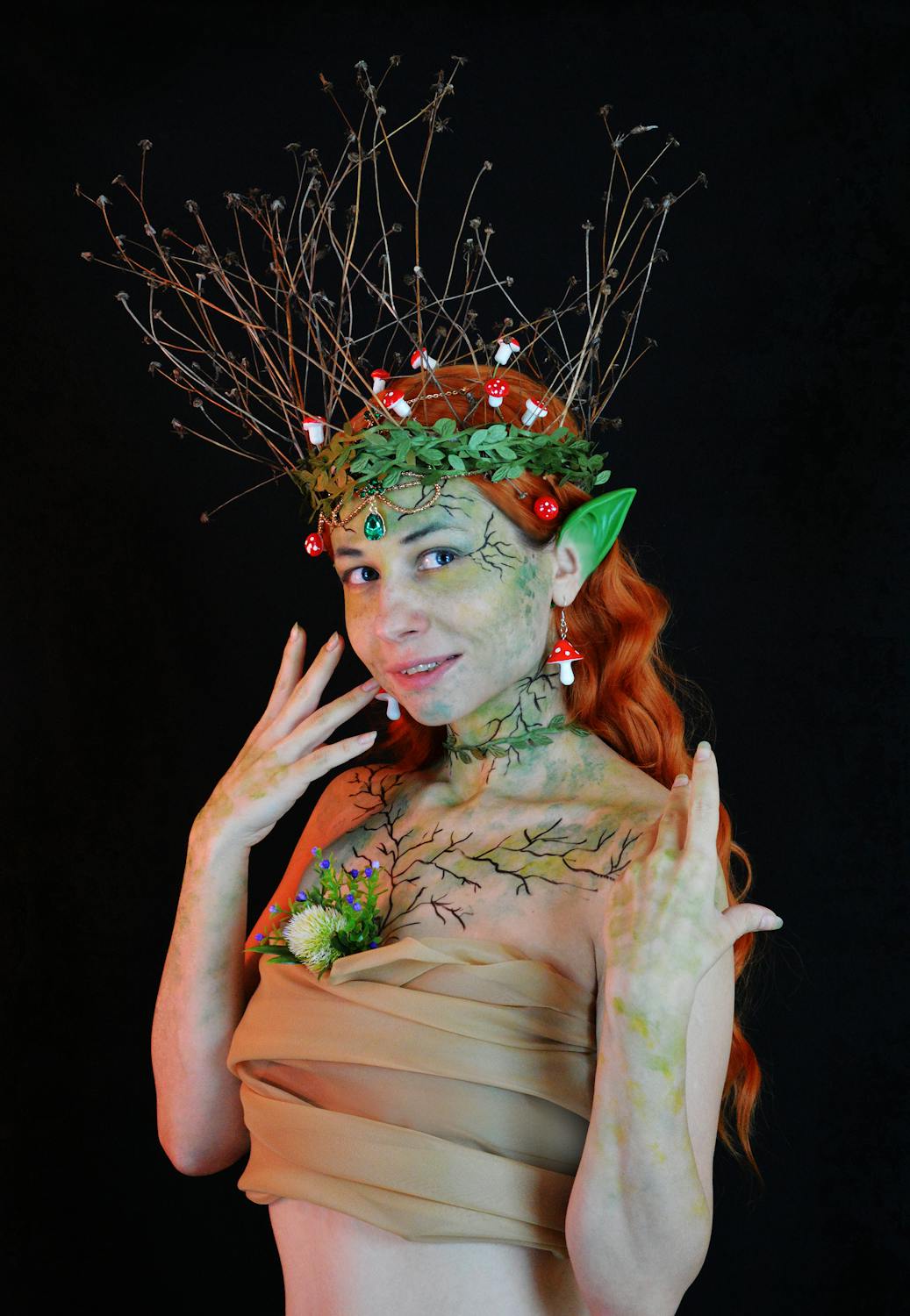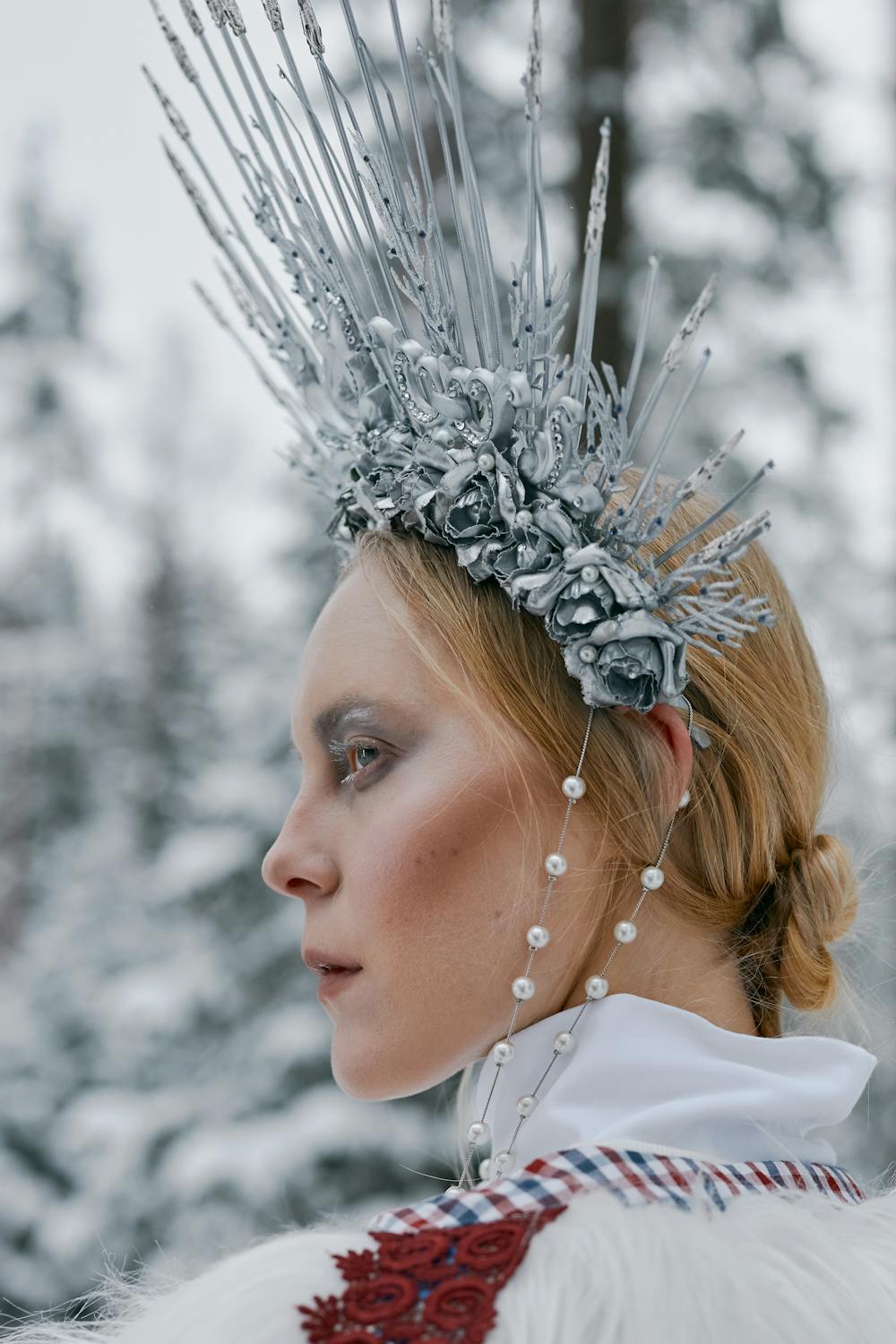 Face paint for raves
You can go as far as also incorporating face paint to your ears headband outfit. Face paints and face beads are already common in music festivals. For Halloween, make sure not to miss to include it and make it a bit spookier. For the face paint DIY option, you would only need face paint material intended for the face or for make-up.
Step 1
Pick your theme, do you want to compliment your animal or creature ears or are you going for only face paint? For the face paint alone, the day of the dead skulls can be fun as they are also colorful. That would give you the chance to enhance the colorful feature with glow-in-the-dark face paint! Otherwise, the alien vibe is also fun with face paint and goes perfect with both the techno and Halloween spirit.
Step 2
Depending on the face paint you are using, make sure to read the instructions carefully and apply accordingly. Some face paints include warnings like a maximum amount of time that you should carry it on your face.
Step 3
Bring some wipes to the rave. There are good portable options. As mentioned in step 2, most face paints should only stay for a certain amount of time on your face. Come prepared to wipe it off with efficient wipes so that your skin does not remain contaminated with the paint throughout the rest of the rave or party.
Lost in space
Space costumes are easy to make, and the metallic tones are very techno! What is great about this option is that all you need is mostly a can of metallic tones to paint some old clothes, shoes, and accessories. Bonus points if you find some glow-in-the-dark spray paint!
Step 1
Gather the items you would like to paint in metallic tones. This involves shirts, pants, hats, shoes, sunglasses, jewelry, and accessories (you can buy some cheap ones).
Step 2
Depending on the colors you wish to spray on, start with darker tones and move on to the lighter ones. While doing so, remember to put an adequate amount of newspapers or cardboard so that you do not damage the floor beneath. You should also preferably do this out in a yard or balcony and if you do not have one, open enough windows for clean air!
Step 3
Once the base is applied to your costumes, use solid or glow-in-the-dark paint to draw some trippy designs onto your costumes. You can be conservative and go for spirals, stars, and planet doodles. However, if you want to explore the artist inside of you try for sure more crazy patterns like a whole cosmic story for which people will have to follow you to read!
Thanks for reading our DIY rave Halloween costumes guide. For more tips and ideas about raves and attire check our articles about bandanas, rave fits for guys, and plus-size clothing for raves and music festivals. Any ideas, comments, and pictures that can be helpful to others are also extremely welcome in our comments sections! Make sure to drop us a few.
Tatianna Rodriguez has been in the rave community throughout her life. Each month she visits a new country around the world to explore their rave traditions and beliefs. She is excited to help you learn more about the rave and music festival scene.